The right battery

for every application
The battery should do one thing above all: be ready when you need it. And it should be absolutely reliable and inconspicuous. It is often critical to the system, and nothing works without it. On the other hand, it inevitably ages with use. For more than 50 years, we have been dealing with batteries and the delicate balance that is necessary so that you get the most out of your battery for a long time.
Find out how you can counteract the aging process with our support.
Tipp
A battery with up to 20% more power can always be installed, provided it fits the box dimensions and the installation conditions.
Bigger is always possible!
Motorcycle
Batteries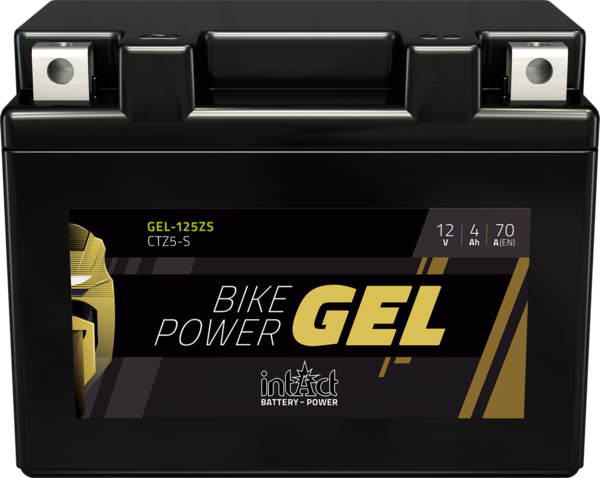 intAct
Bike-Power GEL
Provides 30% more starting power for modern motorcycles with many electrical consumers, including ABS.
Starter
Batteries
intAct
Premium-Power
30% extra starting power and fast loading for many consumers and short distance use.
Traction
Batteries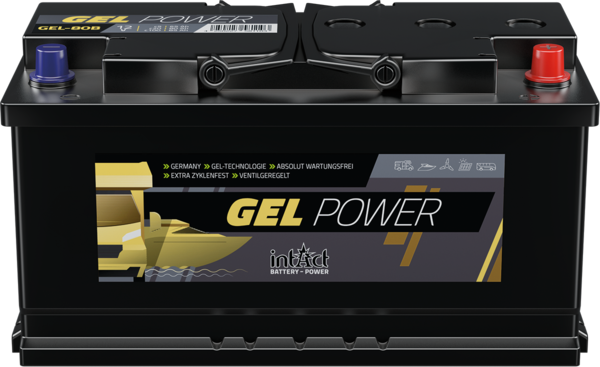 intAct
GEL-Power
Minimal maintenace during use and as storage for renewable energies and supply in the demanding leisure sector.
Supply
Batteries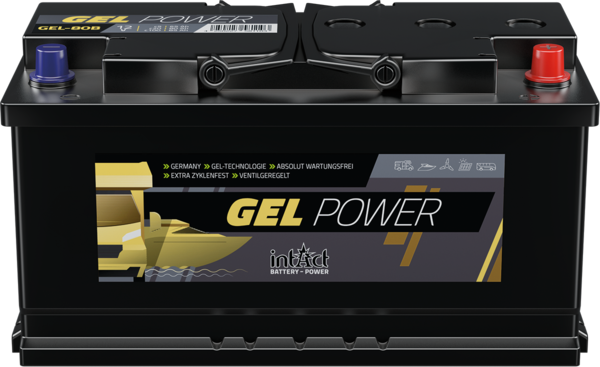 intAct
GEL-Power
Minimal maintenace during use and as storage for renewable energies and supply in the demanding leisure sector.
A battery is only good until it stops working. Its failure is annoying, costs time and money, but is inevitable. With a little attention and care, however, the event can be delayed.
The most important adjustment factors:
Selection of the appropriate battery.
Careful maintenance, especially: paying attention to the state of charge.

We have already worked on the selection of the battery.
As a battery specialist with more than 45 years of knowledge from the distribution of batteries and our experience with the project planning and support of industrial battery solutions from our business division inbatt, we know our way around batteries from different manufacturers in various application scenarios.
With our battery brand intAct you can be sure to get the right battery at any time and for any application.
But you don't have to blindly believe us.
For us, the battery is a passion. We want to familiarize you with it so that it also can serve you well.
For example, why the different battery technologies matter to you and what you should look for when buying a battery.
But now let's be specific: What does the battery actually do exactly?
In a nutshell, the battery generates electricity, which it delivers to the consumers. It is charged and is ready again.
So far, so good. Meanwhile, a bit of chemistry happens inside the battery.
Current flow
In principle, current flows between a positive and a negative terminal (the two electrodes) as soon as they are connected to a consumer (e.g. the starter motor) or a charger.
Discharge process
During this process, the active material (PB or PbO2) on the electrodes reacts with the sulfuric acid used, the electrolyte (SO4), and lead sulfate (PbSO4) is formed, which is deposited on the electrodes and the acid loses density. The battery is discharged.
Charging process
During charging, most of the chemical process is reversed, most of the lead sulfate dissolves again and lead, lead dioxide and sulfuric acid are formed again. Because some lead sulfate always remains, the battery gradually ages.
It's a coherent equation: a lot out, a lot in.
Every battery loses power over time.
If it is loaded normally and is always fully charged, the capacity is slowly reduced.
If it is often overloaded and insufficiently charged, the capacity is reduced much more quickly, i.e. the battery ages much faster.
Ideally, current drain (load) and current consumption (charge) should be in balance. This prevents the battery from ageing prematurely.
So, what should you look for when choosing your battery,
to achieve the necessary balance?
1. always choose a battery suitable for the use
When choosing a battery, it basically depends on what it is to be used for.
The most important distinction is between starter batteries, including motorcycle batteries, and cyclic batteries such as traction or supply batteries.
Starter batteries, including motorcycle batteries, primarily have to start the vehicle.

Cyclic batteries power appliances for as long as possible before recharging: Traction batteries supply power to electric motors while supply batteries provide power to electrical loads independent of the power grid.
However, there are also hybrids between starter batteries and cyclic batteries, i.e. batteries that can do both. Examples of these are:
Starter batteries that also supply electrical consumers when the engine is not running in the motorcycle, car or commercial vehicle and the alternator is not supplying power, these are mainly but not only start-stop batteries.
Supply batteries that also have good starting properties, for example to start the engine on sailboats or in UPS systems in the event of a power failure a diesel generator, so-called dual-purpose batteries.
2. always select a battery that matches the load
Depending on the type of battery, it is designed for certain loads:
Starter batteries must deliver as much current as possible during the starting process. The cold start current, measured in CCA, is informative here and shows how much starting power the battery can provide under optimum conditions.
Commercial vehicles such as heavy trucks or construction vehicles with particularly large displacement engines require more starting power (under the same ambient conditions) than small passenger cars.
In the case of motorcycle batteries, too, starting power is the most important factor, and this with much smaller installation dimensions. Heavy 2-cylinder motorcycles from Harley-Davidson, for example, require more starting power than a ride-on lawnmower.
You can find the required cold start power on your old battery.
Cyclic batteries, as supply batteries, must primarily supply the connected electrical consumers for a long time and, as traction batteries power the respective vehicles or machines for a long time.
In order to select a battery that is suitable for the load, the storage capacity is important. It is specified in Ah and represents how much current (in amperes = A) and for how long (in hours h) a fully charged battery can deliver under ideal conditions (uniform temperature, etc.). With these batteries, it is therefore a matter of the constant, permanent current output.
How many Ah your battery should have depends on what you want to drive with the battery. You can find help for the calculation in our sections traction batteries or supply batteries.
Bigger is always possible!
A battery with up to 20% more power can always be installed, provided it fits the box dimensions and the installation conditions.
3. always select a battery that matches the charging behavior
Starter batteries, including motorcycle batteries, are charged by the alternator while driving.
The charge takes place over a longer period of time with low current. Starter batteries are designed for this charging behaviour.
Some starter batteries combine high starting power with a particularly good current consumption, such as AGM batteries like the intAct Bike-Power AGM, the intAct Start-Stop AGM or the Odyssey batteries. Not only do they recharge better in normal use, but they can also be charged with a stronger charger and faster than other batteries. This can be advantageous for a lot of short trips or seasonal use.
Cyclic batteries such as traction batteries and supply batteries are discharged for a long time and then recharged by a charger.
This alternating charging and discharging is called cycling. Traction and supply batteries are designed for cycling.
Some traction batteries are used in applications with very short charging times. Here, the suitability for very high charging currents plays an important role and the exact matching to suitable chargers with the corresponding charging characteristic curve.
Some supply batteries are not charged from the power grid, but by electricity from photovoltaic applications or wind turbines. Here, it is important that they cope well with the fluctuating charging currents of renewable energies such as solar or wind.
The recharging behavior also plays an important role in safety-relevant applications such as emergency power supply or uninterruptible power supply (UPS). A special suitability for constant charging or trickle charging with low current over a long period of time ensures that the battery is always ready for use.
You want to do something for your battery even after the purchase?
In addition to the right choice of battery, there is a second important component that will always help you achieve a coherent equation and prevent your battery from aging prematurely: Always make sure you have the right state of charge.
Tips on this and other care tips:
- Pay attention to the state of charge
- Careful handling of batteries